Spring Term 2016
Happy New Year!!
As well as setting targets to improve our work and effort this term, we will be studying Ancient Egyptians in the WAU.
In Numeracy we will be introduced to Division so let's keep practising those multiplication facts!
Accelerated Reader is well under way in Literacy. Points are available for each follow-up quiz that you pass online so careful home reading and silent reading in class are really important if you want to achieve a high score.
On 24th February we have been invited by the Time To Read volunteers to visit their workplace at Belfast International Airport where we have security clearance to see parts not often seen by members of the general public. Who says we don't get any trips in Key Stage 2?
We celebrated Shrove Tuesday with a cross-curricular Pancake Day on the 9th February and of course there was much excitement and romance in the air before the Valentine's dinner and annual school disco.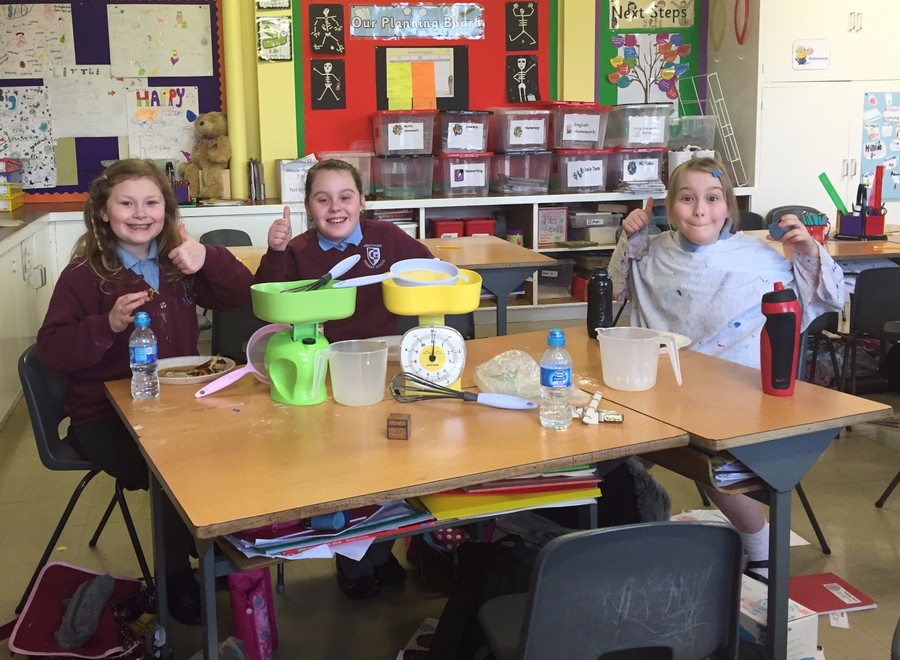 A poem "borrowed" from another Greystone Primary School:
School Poem
I am important and so are you,
Be kind to each other in all that we do.
Be good in how you behave and speak,
Try your hardest every week.
Let the teachers teach and the children learn,
Respect each other and take your turn.
We'll try our best and say it loud,
Greystone School will make us proud!
Autumn Term 2015
Welcome back to a new school year and lots of changes as you go upstairs to Room 12 and begin Key Stage 2; Mrs. Milligan, Mrs. Fleck and Mrs. Lavery will be there to help you on your journey! Be prepared to bring positive attitudes, lots of determination, independence and resilience. In P5, Greystone pupils are encouraged to become more responsible for their own organisation, show greater independence in their learning but most of all, they ALWAYS try their best and are NEVER afraid to learn from their mistakes.
During the autumn term, we will be learning all about MIGHTY ME/ HEALTHY ME in the W.A.U. (World Around Us) and P.D.M.U. (Personal Development and Mutual Understanding). We will be talking about our super-power strengths and weaknesses, studying our bones, lungs, heart, healthy eating, teeth and how to make healthy lifestyle choices. Don't be surprised if P5s complain of a sore "cranium" by the end of this topic!
In Literacy, our writing focus is narrative including character descriptions of our Superheroes There will be opportunities for collaborative group work, good listening and discussion. We will continue to use Collins Big Cats in Guided Reading and follow the Jolly Grammar Scheme in Spelling. Check your Spelling folder for lists and activities. Also, remember to read widely at home and writing your comments in your Reading Record Book each night.
In Numeracy, we will be starting with PLACE VALUE and the 4 number operations as well as Time, Length, 2D shapes and collating data to present as graphs. We encourage quick recall in Mental Maths and of course, a sound knowledge of basic number bonds, times tables and division facts to provide a strong foundation on which to develop P6 maths skills. Why not check out some of the websites and apps recommended on our school website for ideas?
Our P.E. day is on Tuesday afternoons when we will be learning new skills and games with our I.F.A. coach, Damien. We also go swimming at Antrim Forum on Friday mornings from 11th September so, please try not to forget your kit, £1.50 for the bus or your PANTS!.
On Monday afternoons, P5 will go to Mrs McKay (P2) for P.D.M.U. On Wednesday afternoons they will go to Mrs McComb (P1) for Music and on Thursday afternoons they will go to Mr. Hayes (SENco) for ICT Skills. We will have a very busy year ahead!
School Charity collection day is Thursday so please, bring your pennies for our pink piggy so we can support lots of different worthy causes during the year.
Hope you have a great P5 year!